Last week I shared the importance of creating a social media listening model. Now that you're listening to what is going on during your conference, it's time to think about the best practices for creating content to share with your event's attendees. Here are 4 best practices for creating social media content for your conference.
Prepare some of your content BEFORE you ever arrive on site
Tweets with photos average 35% higher retweet rate than text alone. As the organization in charge of the event, you should be setting an example, not playing catch up, when it comes to shareable content. Here's an example of a tweet from Inbound 2015, the Hubspot user conference.
Inbound did everything right. They included a picture of the speaker, used a standardized on-brand template w/ conference logo, curated a shareable and inspiring quote, included the speaker's twitter handle and the event's hashtag. Lastly, they paired the graphic with a complimentary tweet.
You too can create graphics like this. You know when your speakers are speaking and you know their content. You have all the information at your disposal to create a graphic to share quotes and insights from your speakers before you ever step onsite. You can even schedule them ahead of time (but be flexible, as we all know content can change). If you really want to take it to the next level, leave the quote empty until you're on site, and pull one directly from the presentation and share it in real time. This is a great technique for Twitter, but can be used on other platforms like facebook and instagram as well.
Create a cheat sheet listing ALL speakers and key executives' twitter handles
Live tweeting a keynote or sharing behind the scenes photos and videos is a great way to engage your attendees. Getting your speakers and key executives to share your tweets is key to growing your audience, as well as exposing your audience to their original content. However, you can't expect your speakers and key executives to go searching for mentions through a sea of hundred of tweets using the event hashtag.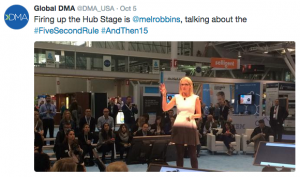 You HAVE TO TAG them using their twitter handle so they get notified!  Not to mention, that's just good twitter etiquette. I can't tell you how many times I've seen a conference organization tweet out a picture of their CEO or mention one of their speakers without tagging them with their twitter handle. If you don't do it, your attendees won't do it. Once again, set an example.
Create an excel spreadsheet with a list of all your speakers, any key executives, and anybody who is scheduled to appear on stage, such as a sponsor. Then, start gathering their twitter handles. This should be easy if you're already observing your key executives' twitter feeds, asking for your speaker's twitter handles, and collecting sponsor's contact information. If you aren't doing these things already, it's time to start. A simple google search can fill in any gaps you may have.
PRO TIP: Make sure you double check any non-provided twitter handles and confirm they are correct. There are a lot of people with the same name out there. Read their twitter bios and check their twitter feeds for confirmation you've found the right person.
Once you've created this list provide it to anybody on your team who is responsible for tweeting content during the conference.
Don't experiment during your conference with new social media platforms you haven't used
Are you thinking of live streaming your keynote for the first time? Maybe you want to use periscope to share behind the scenes content? Set up a test account on twitter and figure out how to use Periscope before you get to the conference. During your conference all eyes are on your social media feed. Nobody wants to watch the organizers of the conference try and figure out how to use Periscope. Do your research and be prepared. If you don't know how to use it before you get on site, don't use it.
I was recently participating in a conference as a virtual social media attendee. I got a notification on my phone that the association throwing the conference, was using Periscope for the first time. I was excited to see what they were live streaming! I opened up the scope immediately and began to watch a shaky, out of focus video of what appeared to be an education session that began mid-session. The live stream was "untitled". There was no context and the quality was poor. About 2 minutes into the live stream it ended mid sentence. Some of the comments were "what am I watching?", "who is speaking?", and "what is this?" Not exactly the kind of engagement you're looking for.
If you are going to live stream sessions from your companies' account, be strategic about it. Decide what sessions you are going to stream ahead of time. Share this list on social media to reach the biggest virtual audience. Reserve a seat up front for the employee who will be holding the camera. Make sure to start a couple minutes early to allow an audience to build prior to the start of the session. Make sure the live stream device is fully charged or plugged into a portable battery pack to ensure the live stream does not cut off mid-session. Consider using a tripod to avoid shaky camera. If you follow these simple instructions you're on your way to producing quality live stream content.
What works for one social media platform doesn't necessarily work for another
Facebook is not Twitter. Twitter is not Instagram. Instagram is not Facebook. Take the time to craft unique content for each platform. Facebook is the platform for sharing highlights, important updates, sponsor messages and contest winners. Any messages that become irrelevant after an hour should not be shared to Facebook.
Twitter is best used for sharing quotes, responding to attendees praise and complaints, sharing user created content such as photos and videos, and blasting time sensitive updates. Remember, most of your attendees will be watching your event through the hashtag feed. Always use the hashtag!
Instagram is the platform for photo contests, caption contests, scavenger hunts, photo op spots and sharing high quality photos. Rule of thumb, your attendees shouldn't be posting better pictures than you. You have the resources, use them. Talk to your event photographers and make sure you receive a steady stream of photos throughout the day.
Every social media platform has it's purpose. Do your research ahead of time and find out where your attendees live online. This will help you decide where to devote your resources on site and plan ahead of time how you will utilize each platform. There's no point in posting to Instagram if your attendees aren't using it.
Join the conversation on twitter and tell us what best practices you use!