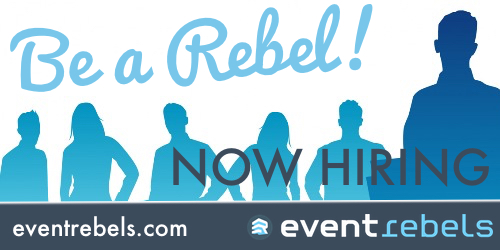 As one of the leading event technology companies in Maryland, EventRebels is always looking for passionate new talent.
We're a team of driven experts, and in each new employee, we look for dedication, willingness to work hard, and a problem solving approach.
Available Positions
EventRebels offers a great work environment, health benefits, and exciting growth opportunities for those that continue to excel. Below is a list of positions that are currently open at EventRebels.
WHY WORK HERE?
There are many reasons why working at EventRebels is awesome, but here are a few of the top reasons why you will love being a Rebel:
1. We're a family here at EventRebels, and when the company succeeds, every employee is a part of that success. We are also dedicated to helping our employees succeed as individuals.
2. At EventRebels, we give credit where credit is due. We value our designers, developers, sales people, and administrative staff because we recognize the value they bring to the company.
3. As a growing technology firm in Maryland, we provide opportunities for our employees to grow as we grow.
4. A career at EventRebels is a career, not just a job. We provide a healthy benefits package, yes, but we also provide a workplace environment where we want employees to stay with us for the long haul, really becoming a part of our company and our culture.
5. In an effort to give employees greater flexibility and encourage a better working environment, we give our employees the ability to work from home or wherever you work best for part of the week.
Want to learn more about working at EventRebels contact us today.