Sometimes, it's what you don't see that can have the greatest impact at an event. Adding transparent glass and acrylic pieces as accents can really do wonders for a space. The best part is that these clear furnishings can be incorporated in any room because they don't dictate or change a color palette or style. They can also make a room feel bigger because they take up practically no visual space. Not to mention, it's super cool when your decor and catering look like they're floating in air!
The popular transparent furniture, made of polycarbonate, is one of the latest trends in rental options for ceremonies and receptions. Ghost furniture are new to the public, having been almost exclusive to the design world, said Christine Perez, president of 341 Events, a ghost furniture rental business in Hialeah, Florida.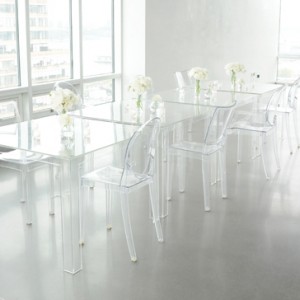 When it comes to high end events like galas and fundraisers, sometimes the easy solution is to order table rounds with big table cloths. Other times, it's best to let the fashion be on display all night long. An invisible set of tables and chairs allows your guests outfits to shine even when they are off their feet. And a simple centerpiece can really stand out when there's few other distractions to draw your eye. Keep in mind the venue as well. Clear furniture looks best with lots of light, and either hardwood or industrial floors.
Being virtually invisible offers several advantages. Since the unassuming furniture fades into the background, it allows more attention to the venue, scenery, and the table setting. They don't take away from the design of the room.
The clear chair also reflects lighting which illuminates the room. In addition, in classical type settings, since it's so opposite, the ghost chairs add balance. Despite its lightweight, translucent appearance, ghost chairs are sturdy, scratch resistant, surprisingly comfortable and suitable for all kinds of weather. Linens and padding can also customize the chairs if requested. Ghost chairs are new but reactions from friends and family are similar. "Guests think they are beautiful and want to sit in them to see how sturdy and comfortable they are," Perez said.
Follow us on twitter for more articles like this posted every week!