The iMIS membership management software product is one of the most versatile CRM products available to associations. However, when an association wants to use third-party event management software for managing its conferences and trade shows, it can be very difficult to move data from iMIS to and from the event software package.
EventRebels has had a long-time web-service integration to pull data from iMIS for the purposes of validating memberships and driving pricing. Now as part of our partnership with Association Technology Solutions (ATS), EventRebels announces a full-round trip solution of EventRebels to/from iMIS systems. The solution is part of the ATS Bridge architecture.
The ATS Bridge provides iMIS integration. First, the bridge uses a Single Sign On to pull information from iMIS. That means that anyone who registers will be directed to iMIS to login with the familiar website login. New users can also create an account through the iMIS website login. Once logged in, any fields can be retrieved to be used by EventRebels. Those are configured through the use of an IQA.
When a person registers on the EventRebels site, a detailed activity record is written back for each function that the person purchases. Any clients who are licensed for the bridge will be able to use this functionality.
The below diagram shows how the roundtrip works. Besides member validation, the EventRebels pull of iMIS can add additional functionality, such as using member categories to further drive pricing and the flow of the online registration form.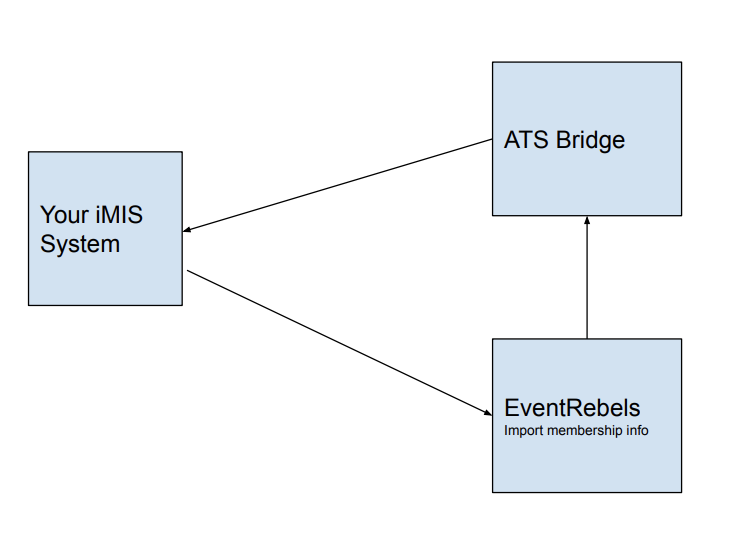 Gaining all the benefits of iMIS and EventRebels integration is a snap with the ATS iMIS Bridge. ATS offers everything it takes to get started quickly and easily, assuring:
Compatibility with all versions of iMIS using the .NET iMIS Business Objects and Web Services (from 10-20)


An upgradeable, secure solution that accommodates several flexible deployment models


Easy set-up and one time configuration.