2017 is coming up fast and you are considering everything that can make your show as awesome as possible. Do not forget that the best way to add spice to your events is to have an unforgettable food and beverage menu. Fortunately, it is an exciting time in the F&B world, so there are many opportunities available to add that extra pizazz.
Here are some of the top F&B trends in 2017 that can make your event "a can't miss."
Keep it Local and Sustainable

Supporting local markets just continues to grow in importance. The best part of local is that enhances the uniqueness of your destination. Who wants lobster in Denver? But if you are in New England, seafood will add to the regional experience. With local, your food is fresher and the beverages are more unique. The cause of sustainable meetings is also enhanced as long distance shipping costs are avoided.

Keep in mind that you do not necessarily want to mix local with "quaint." Food professionals at your destination will know how to mix local ingredients with cosmopolitan recipes in a way that will make your event and destination feel cutting edge.

When thinking of local, consider all angles – craft beer, vegetables, meats, fruits, cheeses and even spices.

Chefs have always been known to make the best of everything in the kitchen. A new trend is to not let anything go to waste. "Discarded food," as it is unattractively called, can result in terrific dishes. It can always be very friendly to your budget and is an environmentally conscious move.
Health and Wellness
In our meat-centered culture, fruits and vegetables have become synonymous with good eating. So it is not a surprise that greens are the center of quality food for events. One vegetable stands out in the latest food fashion – the cucumber! While the veggie wins as a key ingredient because of its coolness and texture, its circular shape is an added bonus as it easily lends itself to attractive display. The Cuke also does a great job absorbing fellow ingredients. The cucumber has also become a favorite accompaniment to mixed drinks or standalone vodka.

Grilled vegetables are also hot – peppers, zucchini, onions and many more. These make for excellent small dishes.

No food article would be complete without mentioning Kale. Unfortunately, just as many of us were getting used to this very healthy vegetable, it is on the outs in the world of trends. You still might want to keep kale in your lunch, but very few attendees are going to be "wowed" by it any more.
Drinks – Craft and Exotic
Beverages are not totally exempt from these trends. Local, in particular, has a big hold in the world of alcohol. For the beer connoisseur, the regional craft varieties are a hit as are beer sampling stations. The enjoyer of fine wines will like checking out the tastings in the area. A trip to the local winery tend to be very popular.

When it comes to cocktails, the Pacific experience is in favor. While the old Tiki experience with the umbrella is a stalwart, consider topping your mixed drinks with a luscious item from the vegetable community. Once more, this is where cucumbers will make a statement.

2016 is the year of the Bloody Mary. The great "eye opener" is making the best of garnishes to set the pace for events. Creative presentations may even include some protein like a chicken wing or shrimp. Of course, the Blood Mary is a potent drink, so have those liquor tickets ready!

Needless to say, alcohol is not the only drink to serve at events – especially for your morning and afternoon activities. Teas and juices have become a big part of the modern lifestyle. The probiotic Kombucha and green Matcha teas are versatile and can be paired with other ingredients. The onsite juicer with fresh (and, of course, local) ingredients is a great mid-day approach to restore energy to your attendees.

Mocktails are alcohol-free cocktails and can serve a variety of purposes. It is a great alternative for those who do not drink. You can also serve these earlier in the day without fearing the consequences.
Eat and Chat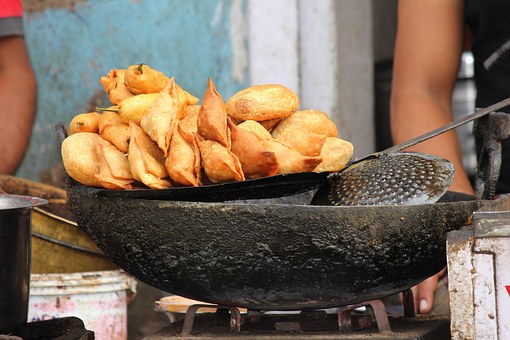 Today's networking can be fast and furious. Consequently, the gregarious attendee will not want to take time to sit down and eat a meal. That is where the bite-sized trend is taking events by storm.

Utensil free fare like wraps and small sandwiches are great for a quick protein hit. Sliders with unconventional fillers like pork bellies or lobster can also charm and nourish quickly. Another on the fly winner are flour pockets. These have the advantage of tying into other trends – think samosas and blintzes. Vegetable plates are, of course, the way to be both fast and healthy.

Having the chef active at your event is a sure-fire way to generate additional excitement. Having them quickly prepare small plates that can deliver freshness with speed and the personal touch.
Time for a Change

The last trend is to add a bit of adventure to your food experience. Ethnic and fusion recipes continue to be huge. If you have the budget, going for luxury style with high quality meat cuts and a top wine can really take the F&B portion of your event to the next level.

One study has suggested that insects are "creeping" into popularity. That may be so, but please make sure that these dishes are well-marked – not everybody is that adventurous!
---
Originally printed in November/December issue of Meeting Professionals International Potomac Chapter's Engage magazine.