In honor of the announcement that Dreamforce 2015 has partnered with Celebrity Cruises to provide hotel accommodations on a luxury cruise ship, the Dream Boat, as well as a little April Fool's mischief, the Rebel Wanderer is presenting some aquatic venues to you today.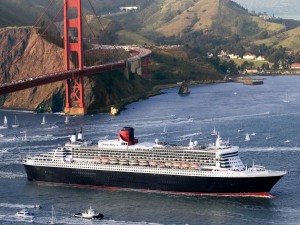 The Dream Boat
Of course we'll start off with the Dream Boat itself. This year, Dreamforce has partnered with Celebrity Cruises to add accommodations right on the San Francisco Bay with a stunning cruise ship that will be docked at Pier 27 throughout the conference. Many of the spacious rooms feature views of the bay or the city skyline.With multiple dining options, lounges, nightly entertainment, and different activities on every deck, the Dream Boat is the innovative new way to stay at Dreamforce. Dreamforce is notorious for filling San Francisco's hotels and is one of the largest city-wide conferences in the world.  It's no surprise that attendees are literally spilling right into the bay to find accommodations.
Bud Light Hotel
For Super Bowl 2014, Bud Light partnered with Norwegian Cruises to turn one of their newest ships into a Bud Light-themed hotel. As part of the transformation, A-B plastered the Bud Light moniker on thousands of pillows, hand towels, shampoo bottles and other shipboard items, and hosted concerts, business meetings and other gatherings in its event area. That space included the Getaway, the deck of the retired military ship the Intrepid, its pier and the surrounding area. The Norwegian Getaway featured a sprawling, deck-top fun zone with five water slides; a restaurant-lined boardwalk; large production shows including Broadway's Legally Blonde; and a giant, two-deck spa.

Hawaii Pirate Ship Adventures
If cruises aren't your style, check out this Pirate Ship, available for parties and events. The Treasure Seeker, an 83 foot black galleon pirate ship, is U.S. Coast Guard certified for up to 49 passengers. She is very roomy and stable, has three levels, including a poop-deck, main-deck, forecastle and head.  She features a below deck saloon with snacks and refreshments. Pirate gear, swords, t-shirts and souvenirs are also available onboard.  And not to worry mateys, in the event of an attack, she is well equipped to defend herself with a dozen powerful water-firing cannons and a well-armed crew. The evening cruises are a great opportunity to experience Hawaii at night and take in the lights and music on this club style pirate adventure. Enjoy some grog or a glass of wine while taking in the beauty of Waikiki with a crew of swashbuckling pirates.
Follow us on twitter for more articles like this posted every week!