I recently worked a conference in Louisville and I have to say – I love this town! I stayed in a hotel near the convention center and I found that everything from business to eating to entertainment to beautiful vistas were in walking range. The streets were kept clean and the beautiful architecture made me feel like I was in a turn off the nineteenth century movie. Hence my conclusion that Louisville is one of the finest walking towns in the country. Here are some of the great spots that were on my walking trail.
Galt House Hotel and Rivue Restaurant
Galt House is the city's only hotel on the Ohio River.   It is a twenty-five story hotel built in 1972 on the site of a historic hotel established in 1837. The highlight of the hotel is clearly the Rivue restaurant on the top floor. Though you are treated to magnificent view of the Ohio River and neighboring Indiana as you enter, the real treat is the revolving center. As you dine, the center revolves slowly but surely to give you the full panoramic view. As the fine vista is combined with a first-rate menu, the Rivue is consistently listed among the top five rotating restaurants in the country. The ambiance is so romantic that I personally know two couples that were engaged at the establishment. The Rivue is one of Louisville's top destinations for special occasions.
Louisville Slugger Museum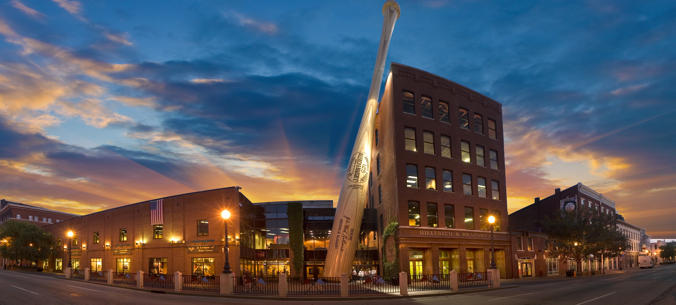 Baseball's favorite bat is the slugger manufactured in Louisville. The legends from the great hitters who used this tool are so many that a museum dedicated to these memories were erected in Louisville's "Museum Row." You are greeted at the entrance of the venue with the largest bat in the world. Based on the slugger of the great Babe Ruth, the bat stands at 120 feet tall. If you are a baseball aficionado, this is the place for you.
St. Charles Exchange
Based in one of the oldest buildings in Louisville's West Main District, the interior captures the full feel of the early 1900s. The dining is classic regional cuisine coupled with a massive Bourbon list. The "Elvis on Horseback" appetizer is one of the establishment's most popular dishes.
These were just some of the sites that are in walking range in downtown Louisville. Also in the vicinity were many other fine restaurants, the Kentucky Center for Performing Arts, Muhammad Ali center, the KFC Yum! Center, and the Louisville Glassworks. Of course, Louisville is also about horse racing and bourbon, but that's another story!
Follow us on twitter for more articles like this posted every week!