San Diego is known for having just about the finest climate in the continental United States. But the city is so much more than great weather. With California's vastly improved train system, it is easy to visit San Diego for a day from all over the southern basin including Disneyland and Los Angeles.
Gaslamp Quarter
The Pacific Surfliner train gives you a beautiful view of the coastline and drops you off at the Santa Fe depot in the heart of the Gaslamp Quarter. Loaded with dozens or restaurants and nightclubs, the quarter retains many of the elements of older San Diego. Nearby Petco Park is home of the San Diego Padres and is a beautiful place to take in a ballgame.
The outdoor mall, Horton Plaza, offers many shopping opportunities. There are also a number of local museums and hotels. The San Diego Convention Center is nearby, as is the harbor.
Balboa Park and San Diego Zoo
From the Gaslamp Quarter you can jump on the trolley and head over to Balboa Park. The park complex is considered by many to be the heart of San Diego. You can keep it simple and stroll through the beautiful gardens and Spanish architecture. For entertainment there is the Old Globe Theater and Marie Hitchcock Puppet Theater. For the arts there is the Casa De Balboa museums and the Spanish Village Art Center. If you are bringing children, you may want visit the San Diego Air and Space Museum or the Railroad Museum.
Of course, the children and you will have to visit the San Diego Zoo, considered one of the finest in the world. Not only does the zoo house over 4,000 animals, but the trails to get to the exhibits are a pleasure in itself.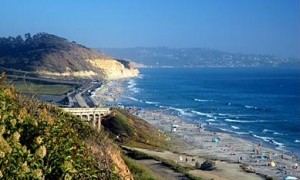 The Coast
If you have wheels you may want to check out the many amazing coastline destinations. To the north there is Torrey Pines State Reserve, home of the rare pine tree. It's great for hiking and exploring the bluffs overlooking the Pacific.
Coronado Beach is home to the classic Hotel del Coronado and is perfect for a more relaxed beach experience. Busier is Mission Beach with its boardwalks, nearby Belmont Park and a more serious surfing experience.
Follow us on twitter for more articles like this posted every week!